'The Reawakening of Tibetan Dreams'

(Report by Divya Abhat | June 23, 2004)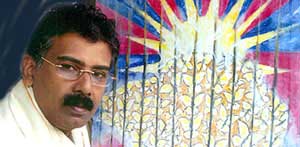 Calicut, Kerala: On July 6, 2004, the 69th birthday of His Holiness the Dalai Lama, which is also observed as 'World Tibet Day', Friends of Tibet (India) will present the Dalai Lama with "Tibetan Dreams", a piece of art that brings to life the story of Tibet, a spiritual country with a difficult tale to tell.
"Tibetan Dreams", operated with mixed medium on canvas, portrays the Tibetan map formed with 69 butterflies trapped behind iron bars, representing a nation that has been converted into nothing but a colossal prison. The Tibetan National Flag forms the background of this painting. The artist of this painting is recipient of the National Lalithakala Academy award (1993), Francis Kodankandath an air intelligence officer and a member of Friends of Tibet.
Kodankandath has had solo exhibitions at Japanese International Cultural Cooperation Agency (Tokyo, Japan); International Centre for Theoretical Physics (Italy); New Heaven City Art Gallery (USA); University de-Joseph Fourier (Paris); River Date Art Gallery (UK); Newman Centre University of New Orleans (USA); Jahangir Art Gallery (Bombay); Alliance Francaise (Bangalore) and the Lalithakala Academy Art Gallery (Kerala). His paintings are in the collection of the late Mother Teresa, Medha Patkar and Padmashri Mohanlal.
World Tibet Day was organised largely by Richard Rosenkranz, a former Washington journalist, nominated for a Pulitzer Prize. The Dalai Lama's younger brother, Ngari Rinpoche, a close adviser to His Holiness, suggested that WTD be observed along with the traditional celebrations for His Holiness' birthday, which are marked every year by Tibetan communities around the world. In founding WTD, Rosenkranz adopted this very idea. WTD was first observed in 1998, in 18 cities across seven countries and has gained a great deal of momentum since then. In 2003, it was held in 56 cities across 24 countries.
The Dalai Lama praised the worldwide event, saying, "WTD has helped greatly in spreading awareness and gaining support for the Tibetan cause." He added that the event has brought to light basic and essential rights of the Tibetan people including their right to preserve a rich culture and the right to practice their religion freely.
Friends of Tibet (India) will observe World Tibet Day in Bombay, Pune, Calcutta and Cochin.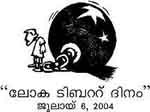 ---
'Tibetan Dreams' by artist Francis Kodamkandath will be presented to HH the XIV Dalai Lama by Friends of Tibet (INDIA).