'Hunger-Strike In Pune'
(Pune, Maharashtra | September 2, 2003)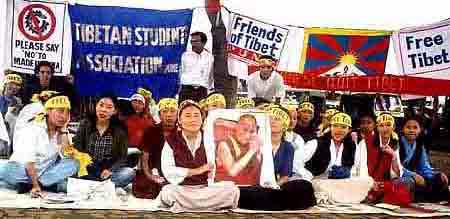 Pune: Members of Friends of Tibet (INDIA) and Tibetan Students Association, Pune (TSAP) gathered in front of the Gandhi statue near Pune railway station on September 2, 2003 to observe a one-day Hunger Strike on the occasion of the Tibet Democracy Day. The leaders of both the organisations briefed the media the previous day about the significance of a free and independent Tibet to India. Raaman Das, co-ordinator of Friends of Tibet (Pune) said "the cause of Tibet is the cause of India and the movement to free Tibet will start from India" while saluting the spirit of thousands of Tibetans who laid down their lives while defending their country during the illegal invasion by China from 1949-59.
A signature campaign appealing to Indian supporters to join the movement continued for three more days during the ongoing Ganesha Festival from September 3-5. Hundreds of people registered their names and assured us of their continued support for the cause of Tibet.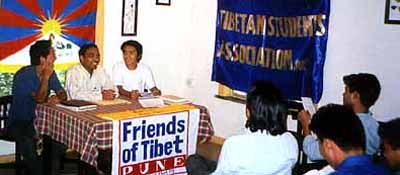 Meet The Press: Raaman Das of Friends of Tibet and Phurbu Thinley of TSAP
---
Creative Resistance' launch was organised by the Friends of Tibet (INDIA) at the Lhakpa Tsering Hall, DIIR, Dharamshala on September 19, 2003