HOME | WELLBEING | REGISTRATION | VOLUNTEER | DONORS | FAQ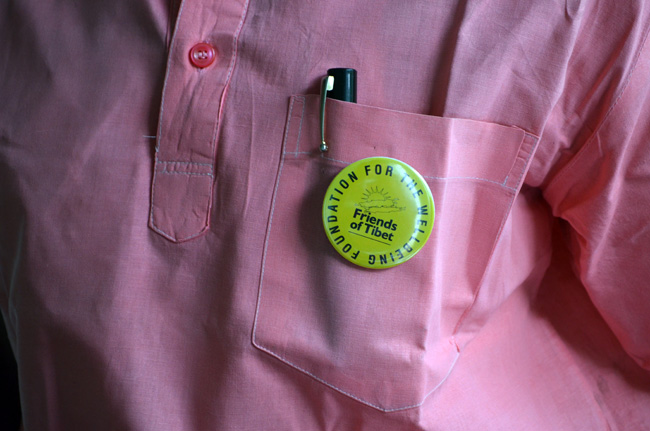 "This is the duty of our generation as we enter the 21st century — solidarity with the weak, the persecuted, the lonely, the sick, and those in despair. It is expressed by the desire to give a noble and humanising meaning to a community in which all members will define themselves not by their own identity but by that of others." Elie Wiesel ◼
⋯
Be A Wellbeing Volunteer
THE Wellbeing Programme by Friends of Tibet was officially launched on September 04, 2010 during the first visit of His Holiness the Dalai Lama to Kochi town in the southern state of Kerala, India. It started with few individual members of Friends of Tibet (Kerala) chapter, now an ever-widening circle of friends and supporters to work voluntarily for those in despair. The monthly traditional Tibetan medical camp by Men-Tsee-Khang, Tibetan Medical and Astrological Institute of His Holiness the Dalai Lama and Friends of Tibet Wellbeing offer medical support to hundreds of participants every month. Both organisations also provide free medicines and medical consultations to the financially underprivileged people in the society on a monthly basis.
The ambitious 'Wellbeing' project would not have been possible without the collaborated support and hard work of Friends of Tibet members and supporters who contribute humble amounts every month towards conducting camps and organising related events. We thank all those who put in so much enthusiasm and effort for making the Wellbeing programme a reality.
We believe that 'Donating Time' is the best way to understand and support such humanitarian initiatives. One can support the Wellbeing Programme in various ways to ensure that good work is continued over a longer period of time benefiting the entire society, especially those who are in need of our help and support. Become a Wellbeing Volunteer by donating your time and talents in the following areas. ◼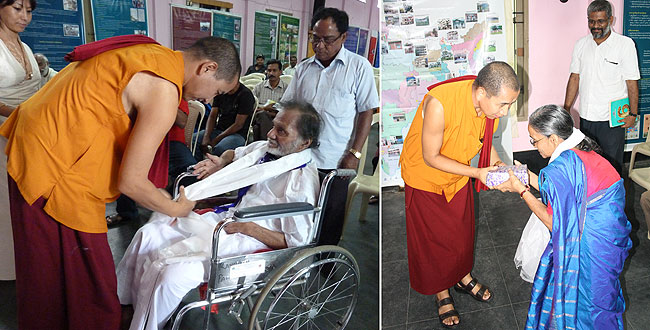 September 6, 2011: Dr Lobsang Zoepa of Men-Tsee-Khang, Dharamshala honors Shri Ahmed Shah and Smt Marykutty Cherian for the support they extended to the Kochi Tibetan Medical Camps since its beginning in September 2010. They were honoured during the Golden Jubilee Celebrations of the Tibetan Medical Institute held at Ashirbhavan, Kochi. ◼
⋯
Wellbeing Donate Time Programme
Translation: We require volunteers every month to act as translators between Wellbeing Participants and Tibetan Doctors (Malayalam-English-Malayalam and Hindi-English-Hindi). The 3/4 day-long Medical Camp begins at 9am on all days and continues till 7pm. Your service is required according to needs of Participants/Groups. You could choose either 'One Day' or the 'Entire Camp' to volunteer.
Environmental Protection: Friends of Tibet has a strong No Plastic Policy during its events and programmes. In todays throw-away society culture, the organisation works towards medical camps with no plastic bags to pack and dispense medicines to hundreds of its participants. These paper bags are reused by many of the Wellbeing Participants. A joint-venture between Paper Trail, Design & People and Friends of Tibet produce paper bags from old newspapers which helps financially-backward women to make a living through this initiative.
Healthcare Research: Men-Tsee-Khang and Friends of Tibet Wellbeing had initiated dialogues between Tibetan Doctors and Indian Ayurvedic doctors in the past in order to exchange knowledge and to learn from others practices. A Wellbeing Volunteer can initiate similar dialogues between medical practitioners from other medical cultures for mutual knowledge gains or even produce research papers in association with Tibetan Doctors.
Create Reports: Wellbeing camp reports are prepared by Friends of Tibet Campaigners every month. We welcome you to prepare a monthly report on a Tibetan Medical Camp by attending one. You may choose a relevant topic and prepare a report accompanied by photographs to be published in the Wellbeing website: www.friendsoftibet.org/wellbeing/
Coordination: It requires about a week to prepare for a 3/4 day-long medical camp. The pre-camp responsibilities include receiving telephone enquiry calls and SMS bookings of hundreds of people a month; updating the Wellbeing database; publishing monthly list online; confirming medical consultation with each participant by email and by SMS; coordinating travel and arranging logistics; printing documents and free distribution materials; updating the Wellbeing website and so on. There is a long list of things to do. We welcome you to assist the Wellbeing Team Members to help them conduct the camps smoothly. ◼
⋯


Friends of Tibet Foundation for the Wellbeing, PO Box 16674, Mumbai 400050, India.
Tel/WhatsApp: +91.9400354354 +91.9061354354
Email: wellbeing@friendsoftibet.org Web: www.friendsoftibet.org/wellbeing/