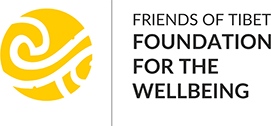 The Wellbeing Programme is a philanthropic initiative by Friends of Tibet, a non-profit organisation founded in 1999 to support the cause of Tibet and to create awareness about the issue of Tibet amongst people all over the world. This initiative researched, designed and implemented by Friends of Tibet aims at the restoration, propagation and promotion of the endangered traditions and practices of Tibet.
HOME | WELLBEING | REGISTRATION | VOLUNTEER | DONORS | FAQ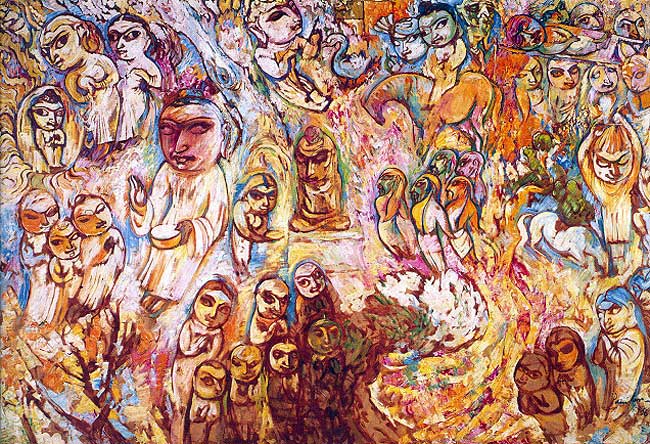 'Lumbini' or 'The Life of Buddha' (1956) by KCS Paniker (1911–1977), one of the most renowned painters from the southern state of Kerala, India.
⋯
Wellbeing Contributors
One of the most frequently asked questions to us is: "Who runs the Wellbeing Programme?" And we had only one answer — "Beneficiaries themselves." The 'Wellbeing Clinics' are run by a group Friends of Tibet Members, Tibetan Medical Centre team members and Wellbeing Beneficiaries. The Wellbeing Programme is one of the most ambitious projects from Friends of Tibet which would not have been possible without the collaborated support and hard work of so many of our people. We thank all those who put in so much enthusiasm and effort to make these camps possible every month. Below a list of individuals and organisations that continue to contribute their time and resources to sustain this programme.
· Aadi Suku Yesudas, Kochi, Kerala, India · Abdul Nassar, Pargana, West Bengal, India · Abraham Thomas, Tripunithura, Kerala, India · Ahmed Shah, Palghat, Kerala, India · Alexander Devasia, Alappuzha, Kerala, India · Anandan TS, Palakkad, Kerala, India · Anand V, Alleppey, Kerala, India · Anne Bekemeier, Quilon, Kerala, India · Appu Jacob John, Kottayam, Kerala, India · Aprajita Sarcar, New Delhi, Kerala, India · Arvind Iyer, Mumbai, Maharashtra, India · Ashokakumar P, Haripad, Kerala, India · Augustine Belarmin, Edappally, Kerala, India · Bina Nayak, Goa, India · Biswadeep Gupta, Mumbai, Maharashtra, India · Daniel Schmid, Switzerland · Eswar Anandan, Kuwait · Fiona Dewar, Glasgow, UK · Geetha Girija, Ottapalam, Kerala, India · Girish Kumar PG, Ernakulam, Kerala, India · Janaki Sankaran Dr, Edappally, Kerala, India · Jayakumar PK, Ottapalam, Kerala, India · Jose Antony, Kochi, Kerala, India& · Karuna Charitable Society, Trichur, Kerala, India · Keval L Shah, Mattanchery, Kerala, India · Krishna Kumar M, Palghat, Kerala, India · Lakshmikanthan Bhima Bhattar, Alappuzha, Kerala, India · Lakshmi Rajsankar, Ottapalam, Kerala, India · Marykutty Cherian, Kochi, Kerala, India · Mathew Abraham, Tripunithura, Kerala, India · Mercy Yesudasan, Kochi, Kerala, India · Mrinalini Gopinath, Ottapalam, Kerala, India · Neil Roy Memorial Trust, Mumbai, Maharashtra, India · Nicole Ngutenluorg, Quilon, Kerala, India · Niranjan Das Sharma, Quilon, Kerala, India · Nirmal Antony, Edappally, Kerala, India · Praveen Rengaraj, Secundarabad, AP, India · Ramachandran C, Ottapalam, Kerala, India · Ramkumar AP, Ottapalam, Kerala, India · Rajsankar Unnikrishnan, Ottapalam, Kerala, India · Rashna Desai, Surat, Gujarat, India · Reshmi Siddharthan, Fort Kochi, Kerala, India · Reeba Vikramadithyan, Coimbatore, Tamil Nadu, India · Rinzin Choedon, Washington DC, USA · Rohit Singh, Mumbai, Maharashtra, India · Sajith M Menon, Palghat, Kerala, India · Samta L Shah, Mattanchery, Kerala, India · Santosh Kangutkar, Mumbai, Maharashtra, India · Sanu Yesudasan, Chennai, Tamil Nadu, India · Saradha U Menon, Ottapalam, Kerala, India · Sethu Das, Mumbai, Maharashtra, India · Sharath Chandra, Kochi, Kerala, India · Shailendra Voleti, New Delhi, India · Shape Foundation, Nagpur, Maharashtra, India · Shih-In Ma, Quilon, Kerala, India · Shilpa Mirpuri, Mumbai, India · Shivani Vijay Kangutkar, Mumbai, India · Simi Nirmal, Edappally, Kerala, India · Sreekumar GV, Mumbai, Maharashtra, India · Sturm Jiri, Kollam, Kerala, India · Suku Dass, Kochi, Kerala, India · Suparna + Joy Banerjee, Gurgaon, India · Suresh Babu, Trivandrum, Kerala, India · Sudesh Balan, Mumbai, Maharashtra, India · Sylvie Bantle, Alleppey, Kerala, India · Tenzin Tsundue, Dharamshala, Himachal Pradesh, India · Thomas John, Quilon, Kerala, India · Thomas John Kovoor, Jaipur, Rajasthan, India · Tsering Dolma, Bangalore, Karnataka, India · Victoria Sheldon, Toronto, Canada · Vinners Books, Ernakulam, Kerala, India · Vinod Pillai, Quilon, Kerala, India · Yathi Suku Yesudas, Kochi, Kerala, India · Yeldtho T Mathew, Kochi, Kerala, India · Yesudasan CJ, Kochi, Kerala, India ·
⋯


Friends of Tibet Foundation for the Wellbeing, PO Box 16674, Mumbai 400050, India.
Tel/WhatsApp: +91.9400354354 +91.9061354354
Email: wellbeing@friendsoftibet.org Web: www.friendsoftibet.org/wellbeing/