More than 600 members of the Maharashtra Tibetan Refugee Association and Friends of Tibet (INDIA) joined a 24-hour long Hunger Strike at the Azad Maidan, Bombay from January 15-16, until the entire Chinese delegation left the city. Major General (Retd) Eustace D'Souza, Yogesh Kamdar (People's Union for Civil Liberties), SV Raju (Indian Liberal Group), Aspi B Mistry (Friends of Tibet INDIA) and Ajay Aggarwal addressed the gathering in support of the hunger strike and the Tibetan struggle for Independence.
Along with a vociferous protest by Tibetans during Zhu Rongji's visit to the Prince of Wales Museum, the protesters had their way despite the preventive measures taken by the police, present in large numbers during the VVIP's visit to the city. More than 130 protesting Tibetans were taken into the custody by the Bombay police and were released after three hours.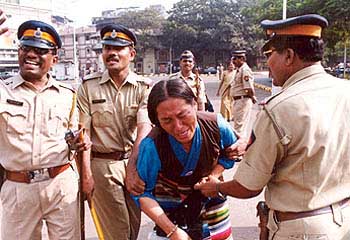 Flame Still Alive: Brave Tibetans being taken into custody

How Tenzin Tsundue Staged His Daring Protest?

. . . . . . . . . . . . .

'Will India Wake Up To Reality?'
(by Tenzin Tsundue | Mid-Day | January 17, 2002)

The Tibetan freedom struggle in exile has been more symbolic than confrontational. In the past 40 years from outside Tibet, all we have achieved is presenting the real Tibet to the world -- as a country where real people of flesh and blood, with the same ability to feel pain and anger, live. We have been able to demystify Tibet from the cliched idea of a land of lamas who walk two inches off the ground.

But the freedom struggle seems to have stopped growing from the zenith of sympathy we reached when His Holiness the Dalai Lama received the Nobel Peace Prize for peace in 1989.

I hear that in Tibet it is difficult to find trustworthy friends. Every other person may be a spy for the Chinese. They whisk away freedom fighters in the dark of night and their dead bodies resurface in the outskirts of the town. Tibetans are a minority in their country. Tibet reels under a cloud of terror and oppression.

Yesterday, India fell for China when Mao Tsetung came with 'friendship ties', screeming 'Hindi-Chini-Bhai-Bhai', but we all know they back-stabbed in 1962, when they attacked India.

Today Zhu Rongji is extending 'economic ties' screaming 'Chini-buy-buy'. We have known the Chinese for long as a difficult neighbour. We know we are fighting a losing battle, with the world having given up upon us. We may perish, but for India it will leave a cancerous wound along its 3,500-km permanent border with China.

Will India wake up to this reality? It is time we worked together for the independence of Tibet and for a safe and secure border for India.

---
Friends of Tibet (INDIA) PO Box 16674, Bombay 400050