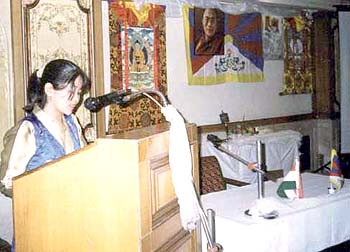 Lhamo Tsering reads the statesment of HH the Dalai Lama

Ms Lhamo Tsering then read out the statement of His Holiness, the Dalai Lama, issued on this day, in which he emphasised that 'World Tibet Day has opened many hearts to the fundamental rights of the Tibetan people to preserve our culture and to practice our religion freely - and it has clearly raised public awareness about the present threat to the very existence of the Tibetan people.'

The film screening began with 'The Shadow Circus: CIA in Tibet' directed by Ritu Sarin and Tenzing Sonam, and originally made for BBC Television. The film reveals the hitherto unknown chapter in Tibet's recent history. With unique archival footage and exclusive interviews with former resistance fighters and CIA operatives, it is a tale that is both heroic and tragic, full of sad ironies and unexpected twists that overturns all preconceptions about both Tibet and the CIA. Ritu Sarin and Tenzing Sonam were inspired to make this film because of Tenzing Sonam's father, the late Lhamo Tsering, a key resistance figure was also the CIA's main liaison officer.

This was followed by 'The Cup', written and directed by Lama Khyentse Rinpoche inspired by true events, 'The Cup' is a delightful comedy about the lighter side of life in a Tibetan Buddhist monastery. 14-year old Orygen has a decidedly unmonastic obsession with football. As the final of the World Cup 1998 fast approaches, the rest of the monastery is swept along with one problem: with no TV, how will the monks be able to watch the match? This touching story tackles the issue of winning and losing, life in exile and the impact of the modern world on a highly traditional life style. Norbu, the first feature in the Tibetan language must be one of the freshest and most charming films around.

All in all, a soul-stirring and inspiring July afternoon.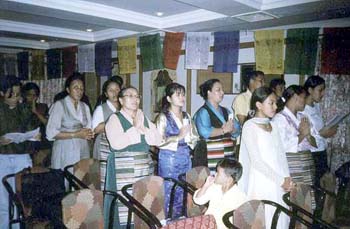 Prayer for the long life of the Dalai Lama
---
'World Tibet Day' and the Birthday of HH the Dalai Lama was celebrated by Friends of Tibet (INDIA) in Bombay on July 6, 2002.