'World Tibet Day 2001'


Venerable Geshe Damdul Namgyal

The 'World Tibet Day' and the 66th birthday of His Holiness the XIV Dalai Lama was celebrated in Bombay from July 6-9, 2001. Reminding the world about the crimes committed by China on humanity, the World Tibet Day was observed in 56 cities and 20 countries across the globe. This was also an attempt to highlight the existing political situation in Tibet under the Communist rule.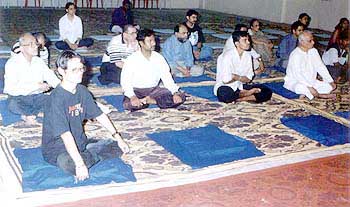 Meditation in Progress

In Bombay, the four-day long events started with teachings on 'Tibetan Buddhism and Meditation' by Venerable Geshe Damdul Namgyal (Principal, Drepung Loseling Monastery, Mundgod, Karnataka) at the Vijay Jadhav Sabagruh, Karmaveer Dadasaheb Gaikwad Sanskritic Kendra, Andheri, Bombay on July 6, 2001 at 8.30am with an introduction by Prof. Prabodh Parikh of the Bombay University.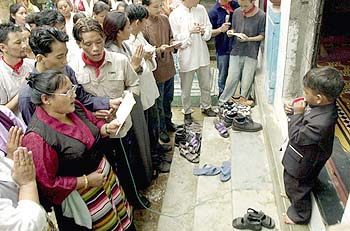 MTRA Members Offer Prayers (Photo: Reuters)

Meanwhile, the newly formed Mumbai Tibetan Resident's Association (MTRA), an association of permanent Tibetans living in Bombay city started the day with a prayer for the long life of His Holiness the XIV Dalai Lama at the Buddha Mandir, Parel, Bombay. The prayer was attended by hundreds of Tibetans, Indian Buddhist monks, journalists and others from all walks of life.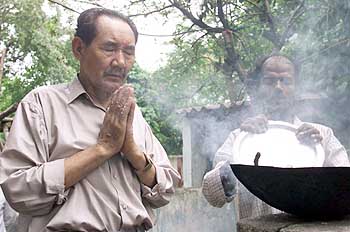 Paljor, an Eldrely Tibetan Prays Before the Food Being Served (Photo: Reuters)

The prayer was followed by a lunch prepared by 21 Tibetan cooks from different hotels in Bombay. This was the first time, the exile community living in the city coming foward together to celebrate the birthday of His Holiness the Dalai Lama. Prayer flags, Tibetan music, women in chuppa, sipping chaang and monks with incense were the bonding factors of the day.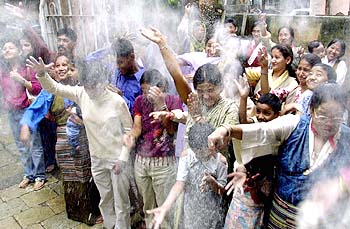 Exile Community Come Alive in Bombay (Photo: AP)
---
'World Tibet Day' and the birthday of HH the XIV Dalai Lama was celebrated by Friends of Tibet (INDIA) and Mumbai Tibetan Resident's Association (MTRA) in Bombay from July 6-9, 2001