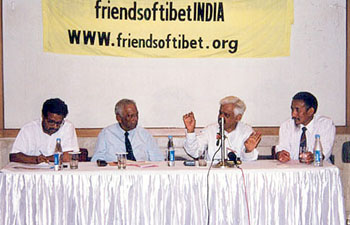 The Triangle: Major General (Retd) Eustace D'Souza,
Prof GP Deshpande and Lhasang Tsering

'The Himalayan Triangle: India-Tibet-China,' an open house discussion was held at the YB Chavan Centre, Nariman Point, Bombay on Decemeber 11, 2001. Participants speaking from three different angles were Eustace D'Souza (Retired Major General), Lhasang Tsering (Tibetan Independence Activist) and Prof GP Deshpande (China Affairs Expert).

It began with Dr Ramu Manivannan explaining the need of such a forum to address the issue. Dr Manivannan made it clear that the Friends of Tibet (INDIA) tried its best to call an appropriate Chinese person to present the Chinese angle, but all attempts went fruitless as the Chinese contacted were not ready to face the repercussions they might face when they go back home after having taken part in such a conference.

Major General (Retd) Eustace D'Souza broke the ice by presenting the Indian case. D'Souza studied the defence and security issues of India vis-a-vis China-Tibet. Narrating his experiences of facing Chinese at the border when he served the Indian army, he said "with the Chinese, one should maintain one's position and they won't move an inch". Eustace D'Souza concluded by saying that Tibet's independence should be restored for the benefit of India and its neighbours.

Lhasang Tsering presented the case of Tibet by placing Tibet as an important and strategic region in Asia and world at large. For military strategy or geo-political reasons, Tibet stands at that advantage position that China will never let it free from its clutches. Delving on the issues of environment he stressed how important it is to let Tibet free from the Chinese misuse of its natural resources.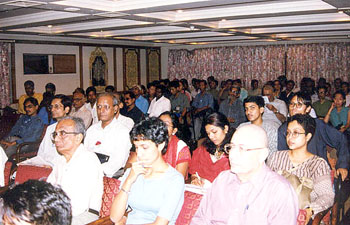 The Circle Around the Triangle

Presenting the views of China in his own words Prof GP Deshpande said: "I am here only to pass on the message." He presented the Chinese case by saying that 'they' consider Tibet and other territories like Mongolia, Manchuria and East Turkestan as a part of their 'civilisational entities.' He said clearly that as far as China is concerned Tibet is a non-negotiable issue.

If the presentation of case from three angles was interesting, the question answer session was more interesting as Lhasang Tsering challenged China's civilisational claim over Tibet. Some Indians suggested that Tibet's case could be solved by asking for autonomy within China in similar way as Hong Kong was dealt with.
---
'The Himalayan Triangle: India-Tibet-China' organised by Friends of Tibet (INDIA) was held at the YB Chavan Centre, Nariman Point, Bombay on December 11, 2001.