'Humour And the Quest for Freedom'

(By Sudeshna Sarkar | Deccan Herald | July 05, 2005)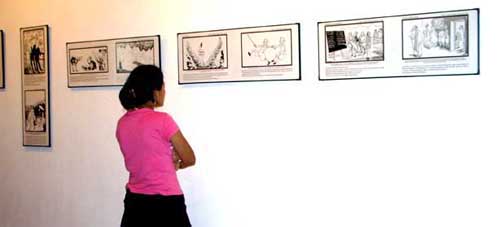 New Delhi: Indian activists supporting the cause of a "Free Tibet" will turn to a new weapon - cartoons. Cochin, in Kerala, will be the launching place for a unique travelling exhibition that draws upon Indian wit to remind people of the struggle of the Tibetan diaspora for freedom. On July 6, 2005, when Tibetans celebrate the 70th birthday of their leader, the Dalai Lama, 'Indian Cartoonists on Tibet', an exhibition of selected cartoons on the Tibetan issue by 15 renowned Indian cartoonists, including Shankar, Ranga, OV Vijayan, Ravi Shankar, RK Laxman, Rajinder Puri, Mario Miranda, Yesudasan, Kaak, Balu, Madhu Omalloor, Thommy, Ponnappa, Morparia and Prakash Shetty, will be on display at at the Kashi Art Café, Burgher Street, Fort Cochin.
The exhibition will be on for five days before embarking on a journey to almost all the state capitals and other cities.
"We've been collecting cartoons for this exhibition the last one year," said Sethu Das, president of Friends of Tibet (India), a Bombay-based support group formed six years ago to spread awareness about the Tibet issue among Indians that is the moving spirit behind the display. "Our aim is to speak to the concerned people in this country about the illegal occupation of Tibet by China. In fact this is the third travelling exhibition from Friends of Tibet (India). We are now working on the fourth one - 'Story of A Nation'. When it comes to Tibet, a subject most of us are passionate about, we are restless and keep on working on similar projects which will help us to reach the maximum people with the message of Tibet."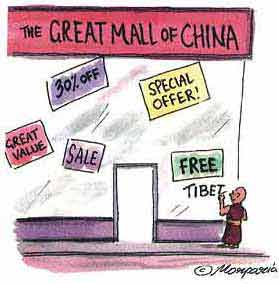 To put the exhibition together, the members of the group went through old issues of Shankar's Weekly for cartoons on Tibet and Indo-China relations made by the late cartoonist Shankar. "He was one cartoonist who lived and made hundreds of cartoons during the Chinese invasion of Tibet and India's difficult years with the new neighbour - People's Republic of China," Das said. "What we have now is a collection of 30 selected cartoons by 15 renowned Indian cartoonists with commentary by Claude Arpi, the French dentist-turned writer and Tibet expert."
It is entirely a labour of love. "We have not received any funding for this exhibition," Das said. "In each city, the exhibition will be hosted by a group sympathetic to the cause."
Friends of Tibet (India) survives on the occasional donations but is not a donor-driven organisation. "We have a difficult situation with funds because we always refuse funds from funding agencies" said Das. "Friends of Tibet never accepts funds from a source that supports the freedom of the Tibetan people while at the same time crushes freedom elsewhere."
If you can't make it to the cities where the exhibition will be touring, you can see it online. "From July 6," said Das, "we are making arrangements to go online with the exhibition on our website: www.friendsoftibet.org/cartoons."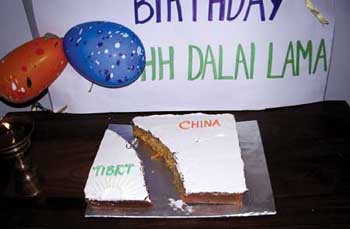 Dalai Lama's 70th birthday was celebrated at the Kashi Art Cafe, Fort Cochin by cutting a cake by the Tibetans living in the city. The cake was in the shape of China and Tibet was 'separated' from it. Taste was excellent! (Photos: Carolina Montesinos)
---
'Indian Cartoonists on Tibet' was held at the Kashi Art Cafe, Fort Cochin from July 6-10, 2005.