'Hundreds Sign Protest Cards in Cochin'

(Cochin, Kerala | November 20, 2004)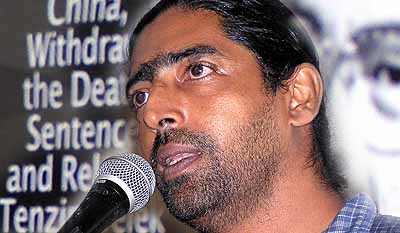 Cochin: By signing and sending Protest Cards to the Chinese Embassy in New Delhi, hundreds registered their protest over the Chinese Government's decision to execute Tenzin Delek Rinpoche (53), an influential Buddhist teacher who was arrested in 2002. Anoop Scaria of Kashi Art Movement introduced the case of Tenzin Delek Rinpoche to the gathering of Tibetans and Indian supporters at a protest meet organised by Friends of Tibet (India) in Cochin, Kerala. In his speech, he said "Even when it comes to execution, China tops the world with more than two thousand per year and Tenzin Delek is the latest victim of a ruthless regime."
Yesudasan (Columnist & Cartoonist), Dr KS Radhakrishnan (Vice Chancellor, Kalady Sanskrit University), Benny Joseph (Janapaksham/NTV), and VJ Jose (Campaigner, Greenpeace) were among the hundreds who signed the protest card. In his speech, Benny Joseph talked about an experience he had with the Chinese police while on a visit to one of the medical colleges in Shanghai where there are about 160 Indian students. When he was asked to write something in the visitor's book, he wrote: "China...when you have so much of land and people and so prosperous, why don't you quit Tibet and leave the Tibetans alone?" Next morning Benny Joseph received a call from a Chinese official asking him why he wrote so. When explained about the freedom he enjoys in India and his views on the Tibetan issue, the official remained silent. (Benny Joseph is back home and safe!)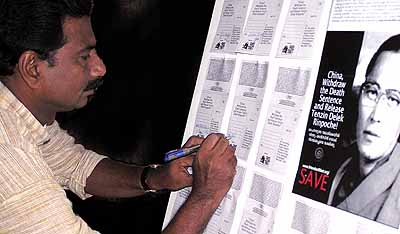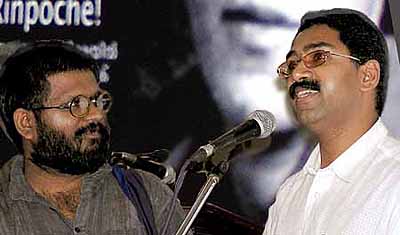 | The Case of Tenzin Delek Rinpoche |
---
'Tenzin Delek Protest Card' campaign was launched in Cochin, Kerala on November 20, 2004 by Friends of Tibet (India).