'Cry Of The Snow Lion' in Mangalore

(Deccan Herald | October 6-8, 2003)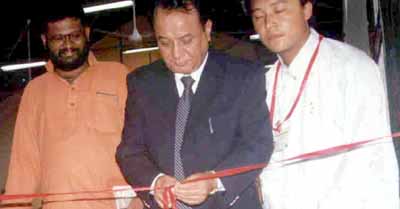 Mangalore: Tibetans were urged to preserve and foster their culture and customs wherever they are living, by Western Range IGP Dharmapal Negi today. Speaking as chief guest at the "Tibet: Cry of the Snow Lion" programme jointly organised by the Tibetan Students Association, Mangalore and Friends of Tibet, Mr Negi asked the Tibetans not to distance themselves from their culture, folklore and traditions although they were physically away from their homeland.
Presently none of the students studying here were born in Tibet. But they could feel and see their motherland through their cultural programme and costumes. It was a meaningful exercise, he observed. He pointed out that the elderly among those who came to India as refugees were ageing and their enthusiasm too was waning as they would be entertaining doubts over the possibility of seeing their motherland in their lifetime. It was for the younger generation to keep the flame of optimism bright and cultivate a spirit of struggle for seeing their motherland a free nation, Mr Negi told the gathering of Tibetans.
"This is an age of professionalism. Nursing or law or any other field; what you need is professionalism, efficiency and skill. Cultivate them and that will protect you," the IGP advised the Tibetan youth.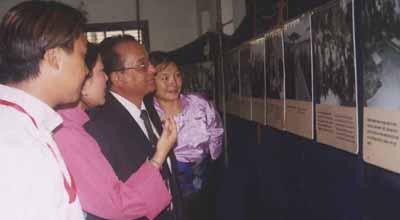 Speaking on the behalf of Friends of Tibet on the occasion, Sethu Das said in the hearts of about over one lakh Tibetan refugees living in India there is an intense longing for their motherland Tibet. Everyone in this country should respond to this longing of the Tibetan refugees, he said. They also need love and affection from the people of this nation and he called upon Indians to have love and regard for the unique Tibetan culture. Mr Das also revealed that as far over 10 lakh Tibetan patriots have lost their lives in their struggle to free Tibet from an alien rule. The struggle would intensify in the days to come he predicted.
Mr Negi also inaugurated an exhibition on the occasion depicting the atrocities perpetrated by the Chinese on Tibetans and the details of the Tibetan freedom struggle. Association president Namgyal Pema welcomed the gathering. Tenzin Tsundue of Friends of Tibet (INDIA) gave the introductory remarks. Cultural programmes including the 'Snow Lion Dance' followed.
'Tibet Festival In Mangalore'
(Times of India | Mangalore | October 6, 2003)
'Tibetans Urged To Preserve Culture'
(Deccan Herald | Mangalore | October 7, 2003)
'The Snow Lion Cries In Mangalore'
(Vijay Times | Mangalore | October 7, 2003)
'Tibetan Youth Urged To Carry On Their Freedom Struggle'
(Deccan Herald | Mangalore | October 9, 2003)
'Showcasing A Freedom Struggle'
(The Hindu | Mangalore | October 9, 2003)
'Tibetan Children Face An Identity Crisis, Says Writer'
(The New Indian Express | Mangalore | October 9, 2003)
---
'Cry Of The Snow Lion' was organised by the Mangalore Student's Association with the help from Friends of Tibet (INDIA) in Mangalore from October 6-8, 2003.