'Non-Violence & Social Action I'
(Sarah, Dharamshala. November 22-24, 2001)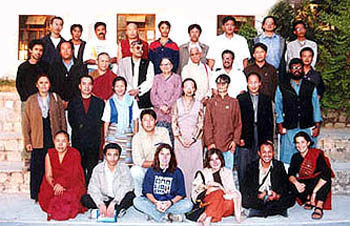 Sarah Workshop Participants and Trainers (List Below)

The first workshop organised by Friends of Tibet (INDIA) on 'Non-Violence & Social Action' (Rangzen Workshop Series) was held at the Institute of Buddhist Dialectics, Sarah, Dharamsala from November 22-24, 2001. The fundamental concern of this three-day long workshop was to create an environment for debate and dialogue on the choice of non-violence as a means of struggle for a free Tibet. The workshop also provided an opportunity to explore different non-violent strategies and understand their potential in Tibetan situation. 21 people representing various institutions and organisations based in Dharamsala were trained by Prof Samdhong Rinpoche (Kalon Tripa, Tibetan Govt-in-Exile); Rajiv Vora (Gandhi Peace Foundation); Radha Bhatt (Woman Leader of Chipko Movement); SN Subba Rao (The Dacoit Man) and Dr Ramu Manivannan (Delhi University).

This exercise will continue in the future in all Tibetan settlements in India, Nepal and Bhutan with an objective of building a network of trainers and volunteers from the Tibetan community.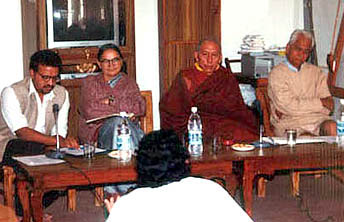 Dialogue with Prof Samdhong Rinpoche

. . . . . . . . . . . . .

More About Trainers:
Prof Samdhong Rinpoche: Born in Tibet in 1939. At the age of five, he was recognised as the reincarnation of the 4th Samdhong Rinpoche and enthroned in Gaden Dechenling Monastery. He came into exile in India in 1959 after the Chinese invasion of Tibet. In the year 1960, he started his service in the Tibetan community as a teacher to monks from the Sera, Drepung and Gaden monasteries. He received his Lharampa Degree in the year 1968 and and Ngagrimpa Degree in 1969, Prof Samdhong Rinpoche was also the Director of Central Institute of Higher Tibetan Studies (CIHTS), Varanasi. He was nominated by HH the Dalai Lama as one of the deputies in ATPD and later was unanimously elected as its Chairman. He was the first ever democratically elected 'Kalon Tripa' of the Tibetan Government-in-Exile.

Shri Rajiv Vora: Well known Gandhian and the editor of Gandhi Marg, Rajiv Vora is also a 'Lifelong Worker' of the Gandhi Peace Foundation. He was closely associated with Shri Jaya Prakash Narayan during the Bihar Movement as the Convenor of the Satyagraha Committee. His Gandhian educational background 'Nai Talim' and his work related to Gandhian thoughts and action makes him an exceptional resource person for this workshop. He is fundamentally committed to non-violent social change.

Smt Radha Bhatt: Woman leader of the Chipko, the well-known environmental movement based in the hills of Uttar Pradesh, India and a regional women's network from the Hindu Kush Himalayas. Radha Bhatt has presented various papers which examines the social context of these environmental movements; especially reasons for the proactive role women played and continue to play, also the presence of Van Panchayat(s) in the hills and the reasons for their inability to manage community forest lands.

Shri SN Subba Rao: As a young schoolboy, Rao joined India's freedom struggle through the Quit India Movement. Inspired by Gandhi's principles, he dedicated his life inspiring youth to constructively participate in development. Often referred as 'the dacoit man', Rao organised an historical event in 1972 where 189 dacoits surrendered to Shri Jaya Prakash Narayan at Mahatma Gandhi Seva Ashram, Chambal. Since then Rao became involved in the rehabilitation of dacoits and their families after they served their terms in prison. His rehabilitation process has been so successful that former rebels work with him to inspire other dacoits in Madhya Pradesh, Uttar Pradesh and Rajasthan to change thier lives.

Dr Ramu Manivannan: Reader in political science at the Delhi University, Dr Ramu Manivannan is also the founder of the Buddha Smiles (India), a program on education, peace and development of children in India and the Burmese refugee community living in India. He is a peace researcher and an activist.


Presentations: (Group I) "Is non-violence a viable means of struggle for the freedom of Tibet" (Group II) "Understanding present Tibet and our responses" (Group III) "Role of TGiE, NGOs, Tibetan communities and the individual in the struggle" (Group IV) "Building action"

. . . . . . . . . . . . .

Speeches/Presentations:

| Key Note Address by Prof Samdhong Rinpoche | 'Non-Violent Peoples' Movement Around The World' by Rajiv Vora | 'Implications of Non-Violent Strategies and its Usefulness' by SN Subba Rao | 'Non-Violence, Spirituality and Community Action' by Radha Bhatt | 'Exploring Non-Violent Alternatives: The Case of Tibetan Freedom Struggle' by Dr Ramu Manivannan | 'How Non-Violent Are We' by Prof Samdhong Rinpoche |

---
List of Participants: Kalsang Tsering, Natallie Baaker, Racheal, Dawa Tsering, Renee, Tenzin Namgyal, Prashant Varma, Sethu Das, Acharya Nyima, Ven Pema Dorjee, Karma Yeshi, Thinley Norbu, Passang Tsering, Dawa Gyaltsen, Nyima Ongmo, Gadhong Jigme, Nyima Tsam, Tenzin Tsundue, Tashi, Anto V, Ven Yeshi Togden, Kalsang Phuntsok, Penpa Tsering, Tenzin Damdul and Yeshi Wangdue.