'July 6, 2004: World Tibet Day in Pune'
(Indian Institute of e-Business Management, Pune | July 06, 2004)

. . . . . . . . . . . . .

Pune, Maharashtra: Pune Chapter of Friends of Tibet (India) in association with the Tibetan Students Association, Pune screened of the film 'Kundun' (Directed by: Martin Scorsese) on July 6, 2004 -- World Tibet Day, also the birthday of His Holiness the XIV Dalai Lama at the Indian Institute of e-Business Management (IIeBM), Pune. Dr Mira Sadgopal, Friends of Tibet Co-ordinator for Pune and members of Tibetan Students Association, Pune spoke on the occasion.

A statement was signed by Friends of Tibet members asking Government of India to intercede with the People's Republic of China for entering into non-conditional negotiations with the Tibetan Government-in-Exile. It also asks for the release of Tibetan political prisoners, including many Buddhist monks and nuns and the 14-year-old Panchen Lama, who is in prison since 1996. The Indian Institute of e-Business Management also announced scholarships for Tibetan students in Pune.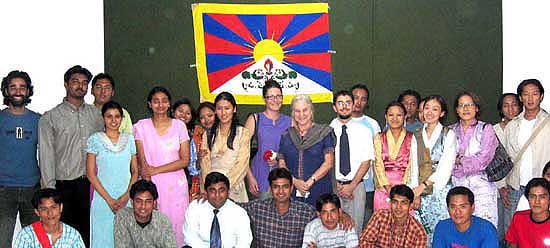 Dr Mira Sadgopal (centre) with Friends of Tibet and Pune Tibetan Students Association members
July 6 is the birthday of His Holiness the Dalai Lama, head of the Tibetan Government in Exile (TGIE). All over the world on this day 'World Tibet Day' is celebrated (since 1998) by groups who support the Tibetan cause. It coincides with the traditional celebrations on His Holiness's birthday held by Tibetan communities each year. In 2003, World Tibet Day was held in 56 cities in 24 countries. Since 2000, Friends of Tibet - India has been observing this day in India. (Find reports in activities section of the Website www.friendsoftibet.org/sofar). The Dalai Lama has praised the worldwide event, saying, "World Tibet Day has helped greatly in raising awareness… and has opened many hearts to the essential rights of the Tibetan people to preserve their culture and to practice their religion freely."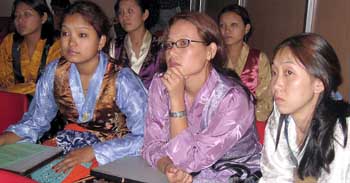 Tibetan students Watching the Film 'Kundun'

. . . . . . . . . . . . .

Kundun: Martin Scorsese's internationally acclaimed Kundun, is based on the life of the Dalai Lama. 'Kundun' literally means 'presence.' It traces the story of Tenzin Gyatso, the XIV Dalai Lama of Tibet, from his divine recognition as a two-and-a-half-year-old child to the day when Tibet was invaded by the Chinese Red Army in 1959, forcing him to live in exile in Dharamshala. The film charts the extraordinary growth of Dalai Lama from a giggling child into a world leader who raised the global consciousness about the Buddhist society, and the plight of Tibet and its people. The film has an evocative music score by Philip Glass. Scorsese was forced to film in Morocco after the Chinese authorities refused him permission to enter Tibet.

. . . . . . . . . . . . .

The XIV Dalai Lama His Holiness the 14th Dalai Lama Tenzin Gyatso, is Head of State and spiritual leader of the Tibetan people. Born in a small village called Taktser (north-east) in 1935, he was recognized according to tradition at age two as the reincarnation of his predecessor, the 13th Dalai Lama. The Dalai Lamas are believed to manifest as the Bodhisattva (Enlightened Being of Compas-sion) reincarnated to serve the people. Tibetans refer to His Holiness as 'Yeshe Norbu' (Wishfulfilling Gem) or simply as 'Kundun' (The Presence). His enthronement was in Lhasa in 1940 at the age of five. Following the invasion of Tibet by China in 1949-50, the Dalai Lama tried peaceful co-existence for nine long years. He was forced to leave Lhasa in 1959 to seek asylum in India. Today, the Dalai Lama leads the Tibetan Government-in-Exile from its headquarters at Dharamsala (HP) -- 125 miles from the border of Tibet. Like Mahatma Gandhi and Martin Luther King, the Dalai Lama is a firm exponent of non-violence. He was awarded the Nobel Peace Prize in 1989.

. . . . . . . . . . . . .

The Traditional Boundary of Tibet The vast Plateau of Tibet is the highest, largest plateau on Earth, with both dry deserts and pockets of pasture surrounded by high mountains. On most maps today Tibet is shown as part of southwestern China, but even on Chinese maps the 'Autonomous Region of Tibet' covers only part of the area within Tibet's traditional boundary. Comprising 2.5 million square kilometers, about 6 million Tibetans (not counting an unknown number of Chinese) live within this area. There are 3 provinces: U-Tsang (central), Amdo (north-eastern) and Kham (south-eastern), with the capital at Lhasa. Tibet was a distinct nation and maintained its own gov-ernment, religion, language, laws and customs. Historically, several countries including China, Britain, and Mongolia have sought to control Tibet with periodic and partial success. From 1911 until the invasion by China in 1949, Tibet was independent. Tibetans keep up their struggle to regain freedom and preserve their culture intact.
---
'World Tibet Day' was observed by Friends of Tibet (INDIA) in Bombay, Cochin and Pune on July 6, 2004.