'Friends of Tibet Presents The Case Pictorically'
(by Huneto Contractor | Times of India | December 3, 2003)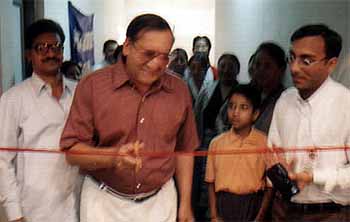 November 29, 2003: Dr Col (Retd) Anil Athalye (Founder Member, Institute for Peace and Disarmament Studies) inaugurates the exhibition. Raaman Das, (right) Coordinator, Friends of Tibet INDIA next to him.
Pune: History is always in the making. Especially so when it concerns the troubled country of Tibet where events unfold like the pages of a book on aggression, marginalisation and violence. Consider this: 1999 -- Tashi Tsering attempted to raise the Tibetan National Flag at the Potala on the 50th anniversary of the Chinese Communist Party and was tortured to death, 1995 -- Gendun Choekyi Nyima, the boy identified by HH the Dalai Lama as the 11th Panchen Lama, was arrested and the Chinese installed their own candidate, 1950 -- Despite protests by Britain, US and India, 40,000 Chinese troops overwhelmed the small number of Tibetan troops in Eastern Tibet.
These and many more occasions will now make for a display of photographs from November 29 to December 1 at the Yashwantrao Chavan Art Gallery, organised by Friends of Tibet. Raaman Das, who, along with the five-member Pune-based support team that backs the morale of around 40 Tibetan students in Pune, wants to raise the awareness level to a new high. "Our current campaign is against dumping of Chinese goods in Asian markets because Tibetan prisoners are used to produce these cheap goods. We are protesting against counterfeit medicine which claimed 1,92,000 people," adds Patil.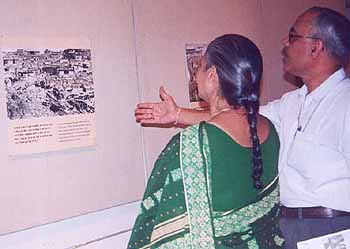 Story of a Nation: Witnessing The Chinese Atrocities in Tibet
---
'Story Of A Nation' was organised by Friends of Tibet (INDIA) at the Yashwantrao Gallery, Pune from November 29 till December 1, 2003.