'Human Rights Day 2001'
(Bombay | December 10, 2001)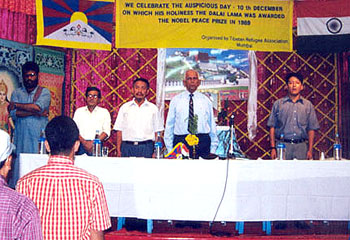 Standing United: National Anthem Being Sung

Tibetan Refugee Association (Mumbai), Mumbai Tibetan Residents Association (MTRA) and Friends of Tibet (INDIA) celebrated the 12th anniversary of awarding the Nobel Peace Prize to HH the Dalai Lama and observed the World Human Rights Day at the Sharada Mangal Karyalaya, Bombay. Chief Guest of the occasion, Major General (Retd) Eustace D'Souza PVSM inaugurated the function and addressed the gethering by narrating his experiences with the Chinese while serving the Indian Army.

Karma Yeshi, Former Vice President of the Tibetan Youth Congress, reminded the Tibetans the acute lack of activism in the struggle and urged everyone in the crowd to put in their best effort. Rajiv Vora of the Gandhi Peace Foundation encouraged the Tibetans to continue with their spirit relating stories from the Indian freedom struggle.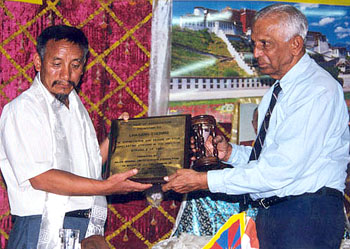 Lhasang Tsering being presented the award by Maj Gen (Retd) Eustace D'Souza

The main highlight of the function was the 'Plaque of Appreciation' awarded to Lhasang Tsering (Former President, Tibetan Youth Congress) by the Friends of Tibet (INDIA). The plaque reads "In appreciation and praise of your unrelenting striving in the freedom struggle of Tibet." It was presented to Lhasang Tsering by Major General (Retd) Eustace D'Souza PVSM on behalf of all the members of Friends of Tibet (INDIA).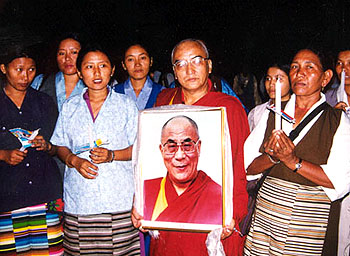 Flames of Hope: Candle Light Vigil in Bombay

The gathering went to Azad Maidan to sit for a Candle Light Vigil. More than 300 Tibetans and Indian supporters mourned the death of thousands of Tibetans due to the direct result of Chinese occupation of Tibet. Karma Yeshi, Lhasang Tsering, Prof Prabodh Parikh, Rajiv Vora and Tenzin Tsundue addressed the gathering.
---
'World Human Rights Day' was observed in Bombay at the Sharada Mangal Karyalaya and at Azad Maidan on December 10, 2001 by Tibetan Refugee Association, MTRA and Friends of Tibet (INDIA).