Dharamsala looked washed in yesterday's sudden burst of monsoon shower. McLeod Ganj like a snail inching up a rock; precariously perched on the mountain ridge, dizzy in the ubiquitous fog. In this a vehicle went around McLeod Ganj with a huge speaker perched on its head inviting people for a talk and discussion on the 'Chinese Language In Tibetan Schools' to be held in Gangkyi.
The fourth 'Heart-Of-The-Matter' organised by the Friends of Tibet (INDIA) happened at a quieter place -- Gangkyi, in the Staff Mess Hall. We couldn't risk a wash out by doing it at our usual venue -- the open ground at the Yongling School. Around 200 people had come from different corners of Dharamsala.
Unlike the gloomy atmosphere prevailing outside, the one in the hall was a bright one with losts of laughter and clappings. Kalon for Education and Religion Thupten Lugrig la led the discussion with a half an hour talk. This was followed by a medley of questions and answers which went on for two hours. In his talk, the Kalon narrated history of Chinese language education in Tibetan schools and presented the ongoing process.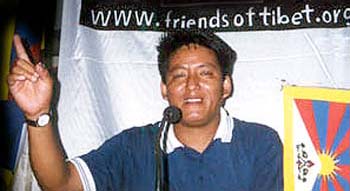 Karma Yeshi moderates the discussion

How It Began?
It began way back in July 1992 as a part time course in CST Dalhousie after a discussion with Mr Dutta the then Secretary of Central Tibetan School Administration (CTSA). The programme received sanction by the Indian Government. The salary of the teacher (Rs 1500) too was paid by the school administration. However this programme didn't see many years of practice, and in 1998 it had to be discontinued. The reasons were just practical and has no political bearings whatsoever. The teacher had no required degree to teach the language as per the CTSA rule.

Now What?
Later the Department of Education (DoE) proposed to offer this course in DoE run schools, but only as an optional subject. Present scenario, DOE has not been able to implement the programme due to various social, situational and circumstantial problems. Even facilities too. The plan is still there with DoE and we are working on the ways of implementing it.

Why Chinese Language?
Language is knowledge and knowledge of any language is an addition to a person's education. We all believe and work towards the Independence of Tibet and one day we all will be returning to Tibet, but we will have to keep our relationship with the Chinese. So even in the long run it will be useful. The Tibetans in Tibet, whether they like it or not they have to learn the language, but in exile there is no opportunity, DOE is offering that for the Tibetan children.

We see the Chinese as our enemy, but the language in itself is not an enemy. In fact with the knowledge of this language we will be able to know what they are saying without a translator's help.

Will It Not Harm The Tibetan Culture?
In the past, so many years we have suffered gross neglect and degradation of the Tibetan culture and language, but if we analyse it, we will not come across one Tibetan who will say 'because I learned Chinese.' It was all because of our own failure. The society's attitude, parents' neglect and the individual's lack of responsibilities. Over that we have fallen for many attractions from all over the world.

Conclusion:
Kalon Thupten Lungrig la made great a impression not only as the Kalon with ready answers for all the questions but also with his easy manner with which he led the whole discussion with humour and light satire. He dealt with the issue in a much larger scale and made incisive comments on Tibetan education in exile. The issues and concerns he raised during the discussion period regarding complaints that our education level is falling, that our teachers are not up to mark, he said that the government can't do much without people's cooperation and support. The best of our teachers whether graduated from college or monasteries run away abroad and we are left no choice but to make do with what is left. The parents are more concerned about making money than doing their bit for their children's education, after saying 'bye-bye' to their children, sending them to boarding schools, as if the nomads had sent their cattle in the mountains for grazing.

Together, we can clear our exile community of these difficulties and complaints, and prepare ourselves for making a future Tibet. The discussion was one that of a heart-to-heart talk and sharing concerns.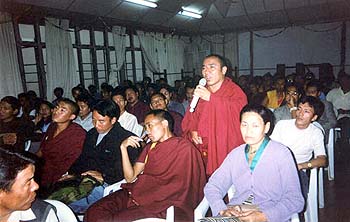 This was one topic they always wanted to discuss

. . . . . . . . . . . . .

Discussion Theme: "Once again, the Tibetan Government-in-Exile in India has introduced the Chinese language in Tibetan schools. Chinese language was first introduced in Tibetan school in Dalhousie, Himachal Pradesh in October 1992 and later discontinued. The 13th Assembly of Tibetan People's Deputies (ATPD) passed a bill reintroducing Chinese as an optional language in Tibetan schools which come under the Department of Education (DoE). Result -- mixed reactions. For some it is a strategy while others see it as a sign of appeasement. Some said it was the wish of His Holiness the Dalai Lama while some feel that such decisions have to go through a democratic process before being implemented."
---
'Heart-Of-The-Matter' was organised by the Friends of Tibet (INDIA) in Dharamshala on August 3, 2002.