The first 'Hind Swaraj Reading' in Dharamsala by Rajiv Vora (Gandhi Peace Foundation) was organised by the 'Friends of Tibet (INDIA)' in association with Hind Swaraj Centenary Celebration launched by 'Swarajpeeth' from August 19-22, 2002 at the Lhakpa Tsering Memorial Hall. During this special occasion, Prof Samdhong Rinpoche and Dr Ramu Manivannan (Friends of Tibet INDIA) spoke on the significance and the importance of 'Hind Swaraj' text to a gathering of 20 Tibetans relating it to the Tibetan context.

. . . . . . . . . . . . .

About 'Hind Swaraj': 'Hind Swaraj or Indian Home Rule' is a text written by Mahatma Gandhi in 1909. It was first appeared in 'Indian Opinion,' a newspaper founded and edited by Gandhiji from South Africa and later published as a book. Occasionally banned in India by the British, 'Hind Swaraj' is a book less than 100 pages long, and comprised of 20 short chapters, which sparked off the Indian Nationalist Movement.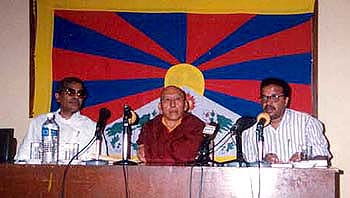 Rajiv Vora, Prof Samdhong Rinpoche and Dr Ramu Manivannan

Rajiv Vora on 'Why Hind Swaraj': To the fiery, dynamic and militant (Tibetans) freedom fighters, non-violence often means inactivity. And it is always those who have fire within them uphold the struggle for freedom at the cost of suffering and sacrifice, and thus also inspire others. It is a function of non-violence to bring this fire in the service of all the seekers of freedom and not only in a service of a few.

I have witnessed Rev Prof Samdhong Rinpoche trying consistently and patiently to wash this charge of inactivity off Non-violence. In our dialogues with Tibetan activists we have faced such questions too, and it is here that 'Hind Swaraj' comes to our aid. Non-violence comes out as a higher level of activity demanding greater fire and militancy. It is through teachings in Non-violence for Freedom as explained in 'Hind Swaraj' that the declining or sagging support for Non-violence could be revived. This is generally true of any, and so it may be for the Tibetans too.

Non-violence as a weapon wielded by a few has a greater power than violence wielded by a bigger number. Even from a pragmatic point of view, if not from normative, religious or spiritual point of view, the incomparably small number of Tibetans can prove heavier and superior to the big might of their adversary if they wield non-violence as their weapon. The dynamism seeking Tibetan youth and freedom fighters need to see their limitations and constraints (being many fold out-numbered by the Chinese) being offset by that which is not dependent on numbers for its strength and power.

Non-violence exercised by a seeker of Swaraj achieves this. The ideal of Swaraj empowers (wielder of) non-violence in the manner similar to motherly love putting all the strength in the body of a frail looking woman. 'Hind Swaraj' gives 'freedom' highest goal and meaning. If rightly conveyed and understood, the goal of freedom is the essence of true self honour. One fights for honour, always; -- for, honour of the spirit is the essential self identity. The quest for honour, i.e. freedom of the spirit, freedom of the inner light and freedom of the true Self is realised in what is known as Swaraj - Rangwang.

'Hind Swaraj' fires this quest. Once this quest is fired, the question pertaining to the choice of means becomes a moot point -- it is resolved automatically in favour of non-violence. It becomes clear like the daylight that the very 'end' in itself has determined the means, for there is no duality between the two. Freedom defined in term of Swaraj resolves the question of means for attaining it. Therefore we purpose to have workshops on 'Hind Swaraj'.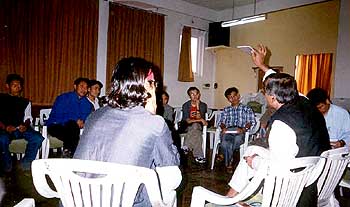 While Reading The Sacred Text
---
'Hind Swaraj Reading' by Rajiv Vora (Gandhi Peace Foundation) was organised by the 'Friends of Tibet (INDIA)' in Dharamsala from August 19-22, 2002, to coincide with Hind Swaraj Centenary Celebration launched by 'Swarajpeeth'.