"Dharamshala Remembers Tiananmen"

(Dharamshala | June 5, 2004)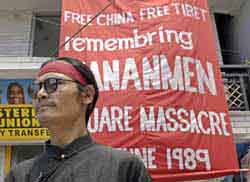 Dharamshala: Yesterday, 4th June 2004, just the day after Dharamsala rejected China's White Paper, the exile capital of the Tibetans saw a new kind of political wave; a solidarity meeting to remember the sacrifice the Chinese made for Democracy during in 1989. A huge red banner hung from a shopping complex in the centre of McLeod Ganj read: "FREE CHINA! FREE TIBET!"
Tibetan activists distributed solidarity leaflets in Tibetan and English. It was also an invitation to a film show- "Tiananmen: The Gate of Heavenly Peace". Tibetans who do not understand a word of the English commentary on the film, sat through out the film show, grim and emotional watching the young Chinese student leaders embroiled in a democracy movement. The film that details the otherwise student movement, later joined by workers, went on for almost three hours.
Tenzin Tsundue, (Writer-activist and National Secretary of Friends of Tibet) in his introductory note said "until Tiananmen Square massacre China meant only the brutal ready-to-kill soldiers. This democracy movement created a new image of China where a face of the common people demanding freedom and Democracy got created. This is history for Tibetans." He said "15 years ago, on this day China ruthlessly massacred their own children who were asking for freedom and democracy. Tiananmen Square massacre remains the biggest blot on humanity. The Tibetan people stand with the Chinese youngsters today looking for free and democratic China."
Karma Choephel (President of national Democratic Party of Tibet) explained to the Tibetan gathering how much the new generation Chinese struggle for democracy in China. "In China not only the minority people like Tibetans and Mongolians, common people in China without contacts or financial clout, do not enjoy any political rights. They suffer like the Tibetans in Tibet. Being common victims of corrupted Chinese Government, we sent our solidarity to the Chinese people."
Tsewang Lhadon (Director, TCHRD), said "Human Rights is universal, it is not begged for, but in China theses rights are not respected. Tiananmen Square massacre is an example of such human life sacrifice for greater freedom and democracy. The recently released 'White Paper' on Tibet by China makes big claims of political and social rights. In our research we get to meet thousands of Tibetans who escaped from Tibet, and they all have personal stories to tell, of discrimination and atrocities.
Yeshi Togden (President of Gu-Chu-Sum Movement of Tibet) related his stories of prison experiences, while he was in prison. In March 1989, China tightened the Tibetans in Lhasa under martial law. Still the Tibetans went into streets demonstrating for freedom from China. We didn't know at that time, that there was similar freedom movement brewing in the heart of China. Three months later, we heard about the student massacre at the Tiananmen. We were not shocked. We saw their brutality, but we did not expect the Chinese leaders to be so power hungry, that they would shoot their own children. We are Tibetans. They called us 'splittists.' But young and educated Chinese demanding Democracy are trampled. We used to talk about this in prison.
---
'In Solidarity: Remember Tiananmen' was organised by the Friends of Tibet (INDIA) at Dharamshala on June 4, 2004