Creative Resistance Released

(www.tibet.net | August 19, 2003)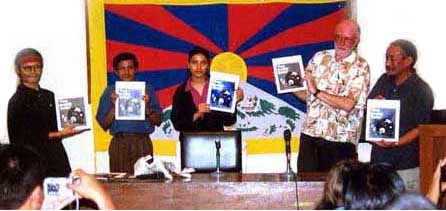 August 19, 2003. Dharamshala: The Friends of Tibet (India), yesterday held a poetry reading session which also marked the launch of a magazine 'Creative Resistance' printed and published for Friends of Tibet (India) by its founder Sethu Das and his brother. Around fifty people gathered at the Lhakpa Tsering memorial hall of the Department of Information and International Relations to listen to poems written by Tibetan writers in exile like Bhuchung D Sonam, Lhasang Tsering, Sonam Dhondup and Sung Chung Kyi. However, Kyi and Dhondup were not able to make it to the event.
As the poetry reading began with Bhuchung D Sonam, a former student of Tibetan Children's Village, the enthusiasm of the audience was already visible. Bhuchung read three of his poems from his book 'Dandelions of Tibet', his first stint into poetry. His upcoming project is "Muses in Exile", a collection of poems written by young exile poets. Lhasang Tsering read three of his poems from the new book 'Tomorrow and other Poems'. Through his poems he has expressed his yearning to return to a free Tibet.
The programme, 'Celebrating exile', which lasted for more than an hour, was the third from the pipeline of Friends of Tibet's activities in Dharamsala. Tenzin Tsundue of the Friends of Tibet, in his introductory remark, said that the event was to give an opportunity for the Tibetan poets and writers to interact directly with each other and to give people an insight into Tibetan poetry and creative writing. He also assured that his organisation will hold such programmes in the future also.
Tsundue said that the Tibetans in exile are not suffering, poverty stricken, ragged and painful people and that the Tibetans have come out as proud refugees. The audience took active part in the event by expressing their views on modern Tibetan literature. (Report from www.tibet.net)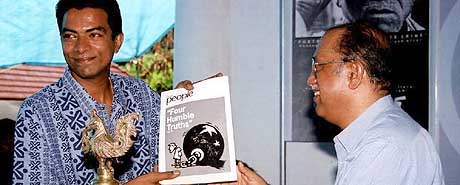 August 9, 2003. Cochin: Design & People, India's first volunteer designers' orgnisation and 'Portrait Of A Corporate Crime', an exhibition of photographs by Padmashri Raghu Rai was inaugurated by the eminent filmmaker, Shri Adoor Gopalakrishnan on August 9, 2003 (Saturday) at the Kerala Lalitha Kala Academy Gallery, Cochin, Kerala. This five-day long exhibition of 58 photographs documenting the 'Bhopal gas tragedy and after' was brought to Kerala for the first time by Design & People in association with the Greenpeace India.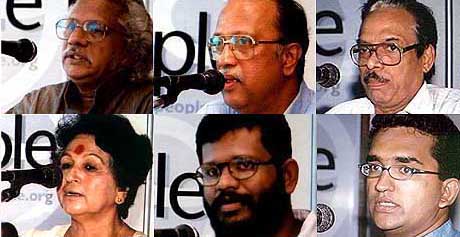 During the occasion, Thomas Jacob (Chairman, Press Academy) released 'Creative Resistance' — a book published by Design & People in association with Friends of Tibet INDIA, by handing over a copy to Joseph John, architect and a volunteer designer with Design & People. Creative Resistance, a collection of writings on war, politics and environment has contributions by Noam Chomsky, Jamyang Norbu, CP Surendran, Lhasang Tsering, Masanobu Fakuoka, Tenzin Tsundue, Claude Arpi, Rajiv Vora and Yesudasan.

---
Creative Resistance launch was organised by the Friends of Tibet (INDIA) at the Lhakpa Tsering Hall, DIIR, Dharamshala on September 19, 2003.