(Dharamshala | May 04, 2002)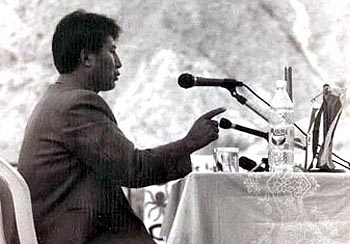 The third 'Heart-Of-The-Matter' churned enough curiosity and concerns that the gathering did not disperse even long after the end of the discussion. People lingered around the Yongling Day School in small groups, discussing, debating.
Assembly of Tibetan People's Deputies (ATPD) member Hortsang Jigme was terse, illustrative where necessary and while proposing 'Return to Tibet To Resolve The Issue'. From his vast experience of life in Tibet and observation, he shared a wealth of information and created almost a scare in the crowd while illustrating how dangerously the Tibetan people are living in Tibet.
Hortsang Jigme is one of the popular personalities from among the recently arrived Tibetans. His writings and his strong political opinions quickly promoted him into a prominent youth. He is now an ATPD member; he also represents the younger generation.
His main concern was that time is running out for Tibet and we must DO something during the lifetime of His Holiness the Dalai Lama. In his own words he says "why do we keep talking 'Genuine Autonomy' and 'Independence'. His Holiness the Dalai Lama and the Tibetans in exile all over the world must return to Tibet and DO whatever we need to do from there."
Studying the danger of flooding Tibet with Chinese settlers, he gave the example of a desert called 'Nag Golmud' which was a desert ten years back. Now it is a city housing 43,00,000 Chinese settlers. The mines and other job opportunities attracted these settlers. Golmud is now railway junction, and from here a railway line is being laid to reach to Lhasa. In the next ten years if this trend of development continues one may have to look for one Tibetan lost in one thousand Chinese.
Hortsang Jigme has been pursued over and again by enthusiasts and concerned Tibetans with questions and doubts. It is learned that one monk even requested him to write a book on this proposal.
At a time when the freedom struggle does not seem to be seeing any action, Hortsang Jigme's proposal 'Return to Tibet To Resolve The Issue' seems to be attracting some attention from the public. "For China, Tibet is a land of opportunity" Jigme said. "Every year millions of chinese are losing jobs, and more number of youngsters are graduating from innumerable universities and Colleges, and for them Tibet like other minority land like Mongolia and East Turkistan is a land of job opportunities and source of income." He concluded.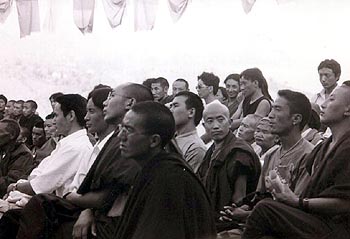 . . . . . . . . . . . . .
'Heart-Of-The-Matter': Regardless of where one may stand on the issue of the 'Middle Way' policy or 'Independence', the one fact that every Tibetan must face is that with more and more and more Chinese moving into Tibet every day — time is running out. What is more, among the many problems confronting the Tibetan people, the lack of open channels of communication between the people inside Tibet and those in exile is a major obstacle. Even in exile, despite the outstanding efforts and achievements of the Tibetan exile government as well as various organisations and individuals — there does not seem to be adequate platforms through which to discuss and debate issues of public concerns and most of all to convey a sense of transparency in the functioning of the government.
---
'Heart-Of-The-Matter' was organised by Friends of Tibet (INDIA) in Dharamshala on May 04, 2002.