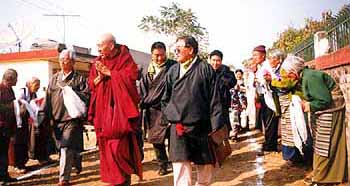 Prof Samdhong Rinpoche Being Welcomed

More About Trainers:
Prof Samdhong Rinpoche: Born in Tibet in 1939. At the age of five, he was recognised as the reincarnation of the 4th Samdhong Rinpoche and enthroned in Gaden Dechenling Monastery. He came into exile in India in 1959 after the Chinese invasion of Tibet. In the year 1960, he started his service in the Tibetan community as a teacher to monks from the Sera, Drepung and Gaden monasteries. He received his Lharampa Degree in the year 1968 and and Ngagrimpa Degree in 1969, Prof Samdhong Rinpoche was also the Director of Central Institute of Higher Tibetan Studies (CIHTS), Varanasi. He was nominated by HH the Dalai Lama as one of the deputies in ATPD and later was unanimously elected as its Chairman. He was the first ever democratically elected 'Kalon Tripa' of the Tibetan Govt-in-Exile.

Dr Ramu Manivannan: Reader in political science at the Delhi University, Dr Ramu Manivannan is also the founder of the Buddha Smiles (India), a program on education, peace and development of children in India and the Burmese refugee community living in India. He is a peace researcher and an activist.

Shri Rajiv Vora: Well known Gandhian and the editor of Gandhi Marg, Rajiv Vora is also a 'Lifelong Worker' of the Gandhi Peace Foundation. He was closely associated with Shri Jaya Prakash Narayan during the Bihar Movement as the Convenor of the Satyagraha Committee. His Gandhian educational background 'Nai Talim' and his work related to Gandhian thoughts and action makes him an exceptional resource person for this workshop. He is fundamentally committed to non-violent social change.

Shri Pawan Gupta: Director of the Society for Integrated Development of Himalayas (SIDH) for the past ten years. SIDH has been working with people on issues of rethinking education and development in the rural areas of Tehri Garhwal District, Jaunpur Block and Mussoorie. SIDH has been actively involved in training of local youth and community leaders in the region. Pawan Gupta has been pursuing extensive research in the areas of Gandhian thought, modern science, education and development. He is also the editor of 'Ryber'.

Shri Alok Ulfat: He has been actively involved with Nanhi Dunya, an international movement of 'children and their friends' started by his father Prof UA Ulfat. Nanhi Dunya, has been running more than 14 educational centres, homes for the disabled and women's empowerment programmes. He is also the director of 'Avikal,' an experimental theatre group based in Bombay.

Shri Reting Tempa Tsering: A former political prisoner and a member of Chushi Gangdrug resistance movement in Tibet. Imprisoned for 22 years for taking part in the militant resistance movement against the Chinese aggression of Tibet. He also took part in the 1987 demonstration and was shot (still carrying a bullet in his spine) by the Chinese police on October 1, 1987. He escaped into exile in 1992.

Shri Lhasang Tsering: Former president of Tibetan Youth Congress and one of the founder directors of the Amnye Machen Institute. He was a member of the CIA-trained Tibetan guerilla force which put up a militant resistance against the Chinese. It was operated from Mustang valley, Nepal. He also served the Tibetan government-in-exile, but refused to rejoin after the Dalai Lama announced the policy to seek only internal autonomy within China rather than independence.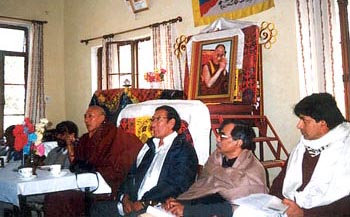 Non-Violence in Action: (from Left) Lhasang Tsering, Pawan Gupta,
Prof Samdhong Rinpoche, Reting Tempa Tsering, Rajiv Vora and Alok Ulfat

. . . . . . . . . . . . .

Speeches/Presentations:

| Key Note Address by Prof Samdhong Rinpoche | 'Freedom Movements Around The World' by Lhasang Tsering | 'Education, Patriotism and Nationalism' by Pawan Gupta | 'Hind Swaraj: Gandhi and the Contemporary World' by Rajiv Vora | 'Spiritual and Political Consciousness' by Dr Ramu Manivannan | 'Future Course of Action for Tibetan Freedom Struggle' by Prof Samdhong Rinpoche |

---
List of Participants: Lodro Kunsang, Tsering Wangyal, Prashant Varma, Lhamo Yangchen, Thupten Gyatso, Tashi Samkhang, Tenzin Lekden, Kalsang Dhondup, Penpa Tsamchoe, Tenzin Choedon, Tenzin Dolkar, Kunchok Pelmo, Ogyen Dorje, Sethu Das, Tenzin Norbu, Passang Dhonden, Namgyal Yemphel, Tenzin Tsundue, Karma Chodar, Buchung Burkar, Dawa Gyaltsen, Tashi Dhondup, Kalsang Tsering, Dawa Sharyachakra, Lhakpa Choezom, Kalsang Lhadon, Yeshi Tenzin, Dhundup and Tsering Daldon.