Calcutta Re-Witnessed Tibet's History
(Chitrakoot Art Gallery | Calcutta | July 6-8, 2003)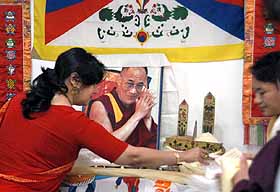 Moon Moon Sen Inaugurates The Exhibition
Moon Moon Sen, the Indian film actress sounded extremely excited on the phone about the birthday celebration of His Holiness the Dalai Lama happening close by her residence in Calcutta. She immediately accepted our invitation.
The three-day-long photo exhibition and film screening organised by the Friends of Tibet (INDIA) was inaugurated by Moon Moon Sen on July 6, 2003. While speaking to the audience she said "His Holiness the Dalai Lama is one of most revered leaders in the world. I happy to be among the Tibetans here today to celebrate His birthday. Tibetans are lucky they have such a personality as their leader."
Mrs Sen did the inaguration of the exhibition by offering the silk scarf at the altar of His Holiness the Dalai Lama. Monks from the Karma Kagyu Monastery lead the prayers for the long life of His Holiness the Dalai Lama. Indian supporters joined in the 'tsampa' throwing ritual outside the gallery, on the footpath. Some passers-by too joined in the name of The Dalai Lama.

Prabash Kejriwal of Chitrakoot Gallery and Tenzin Tsundue,
Kallianpur and Tathagata Chakravarti of Friends of Tibet INDIA
People came from as far as Gangtok and Darjeeling. Some Tibetans from Bylakuppe and Dimapur who were passing through the city too dropped in. About 30 resident Tibetans, some as old as 80 and 90 walked up to the second floor art gallery carrying their 'mani' and rosaries in their hands. Whispers say they have been celebrating the birthday of His Holiness the Dalai Lama ever since 1957!
The three-day photo exhibition 'A Long Look Homeward' narrated the history of Tibet, Tibet in exile and also portrayed the present situation of Tibet under the Chinese occupation. Every evening, a film on Tibet was screened. The films: 'Kundun', 'Tibet: Cry of the Snow Lion', 'Red Flag Over Tibet' and 'Windhorse' were shown. Since more people wanted to see the exhibition, it was extended by one more day. After going through the photo exhibition, Mrs Sen remarked that she would not be visiting China.
Although the Deputy Prime Minister Mr LK Advani had come to the city on a party campaign, Tibet received its fair share of media attention.
The Tibet programme was organised by Friends of Tibet (INDIA) was supported by the Tibetan college students, Tibetan Welfare Association, Kunga Hotel and the Calcutta branch of Men-Tsee-Khang. The exhibition was hosted in kind by the Kejriwals, the owners of Chitrakoot Art Gallery.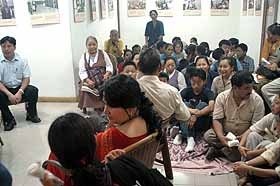 Moon Moon Sen Surrounded by Calcutta Tibetans
---
'A Long Look Homeward' photo exhibition and the film screenings were organised by the Friends of Tibet (INDIA) at the Chitrakoot Art Gallery, Calcutta from July 6-8, 2003