'Dances of theYaks: A Tibet Evening'

(Calcutta, W Bengal | November 27, 2005)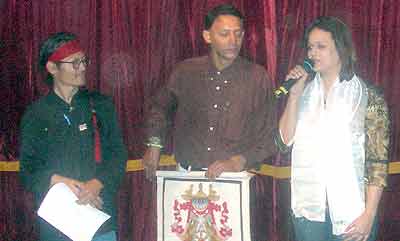 Piu Sarkar (Right) inaugurates 'Dances of the Yaks: A Tibet Evening' in Calcutta, West Bengal. Tenzin Tsundue and Tathogata Chakravati of Friends of Tibet next to her.
. . . . . . . . . . . . . . . . . . . . .
Calcutta: In the silent evening of the port city Calcutta, yesterday the city memory seemed to have lapsed into deja vu when after many years yaks, snow-lions, 'Relpa' the Tibetan gypsy dancers resurfaced on a stage of the city's more popular public hall 'Sujata Sadan'.
In the otherwise the head quarters of Indian communist politics, Calcuttawitnessed a riot of Tibetan colourful dance, music and singing. When the twin Snow-lions appeared on the stage, there was a thunderous rousing and clapping from the audience, which was a variety of people from diffrent culture and language. Bengalis, Nepalese, and a lot of people from northeast India came and expressed their support to the Tibetan freedom movement. There were some old Chinese who now grumble in bengali and alsofew old Tibetans in their 70s and 80s, settled in Calcutta from from 1940s. They went nostalgic about their olden times of then Independent Tibet.
The Chief guest for the Tibetan evening was someone who called herself a admirer of Tibetan culture, a young Bengali actress and painter Piu Sarkar, who lit the lamp to inaugurate the dance and music show. In an impromptu speech the glamorous actress said: "Freedom is the basic human rights and Tibetans deserve this". While assuring her support, she marked: "I support your struggle for freedom and I will do my best from my capacity through Friends of Tibet."
Tibetan writer and General Secretary of Friends of Tibet (India) played a different role on stage - compeering. He was eloquently humorous and profound talking about the otherwise vexed political situation of Tibet in between the songs and t he dances while the performing artist changed closed back stage. He said "it is through these cultural exhibitions that we win hearts of the people in support for a free Tibet".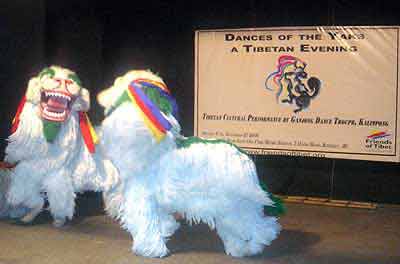 Yak Dance by Gangjong Doeghar, Kalimpong
---
'Dances of the Yaks: A Tibet Evening' was organised by Friends of Tibet (India) at the Sujata Sadan, Calcutta, West Bengal on November 27, 2005.