'Save Tenzin Delek Campaign Launched'
(Bombay | November 04, 2004)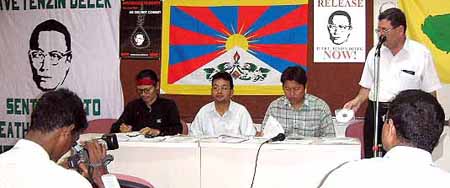 A press conference to announce the launch of the 'Campaign to Save Tenzin Delek Rinpoche' from execution was launched by Tibetan Youth Congress in association with Friends of Tibet (INDIA) and United Tibetan Association of Maharashtra and Gujarat, at the Press Club, Bombay on November 4, 2004. The press conference was addressed by Mr Lobsang Yeshi (Vice President, Tibetan Youth Congress); Mr Aspi Mistry (Spokesperson, Friends of Tibet); Mr Tenzin Tsundue (National Secretary, Friend of Tibet) and Ajay B Agrawal (National Committee Member, Friend of Tibet).
In his introductory message, Mr Aspi Mistry stressed on the importance of the Tibetan cause and the urgent need to save and support the last non-violent freedom struggle of the modern times. He pricked the conscience of the world, particularly Indian public and of the government by reminding India's long-time commitment to moral values encompassing peace, justice, truth and freedom the world over since the dawn of its independence.
Mr Lobsang Yeshi of Tibetan Youth Congress said that Tulku Tenzin Delek is a noble monk with an altruistic mission was to uphold the values of Tibetan religion and culture. The death sentence is inhuman and is a reflection of gross human rights violations vastly prevalent in China.
Tenzin Tsundue protested against the death sentence of Tenzin Delek and stated that if we fail to stop the execution, thousands of Tibetans who respect and deeply appreciate Rinpoche for his contribution for the preservation of Tibetan religion, culture, language, environment and the national identity would be highly disappointed and their hopes and dedication for the cause would be adversely affected. He further spoke on the China's devious policy of racial discrimination and repression not only in Tibet but also in China, despite China's growing power, China is on the verge of collapse and gross discontentment prevails in the entire nation, so we need to keep the freedom movement on for the imminent realisation of independence.
The five-day campaign in Bombay includes chain hunger strike, signature campaign and petitions, postcard campaign, pamphleteering, photo exhibition, video screening, online campaigns and a candle light vigil.

They're Here to Plead for a Monk's Life - (Indian Express)