Friends of Tibet (INDIA) ,
Central Tibetan Administration
&
The Deepak Chopra Foundation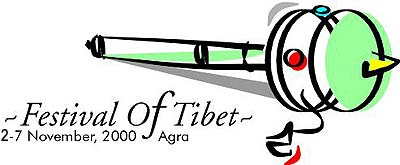 Friends of Tibet (INDIA) and Department of Information & International Relations presented a 'Festival of Tibet' in Agra starting from November 2, 2000 in conjunction with the 'How To Know God' event by The Chopra Centre For The Well Being. This six-day long event was inaugurated by the well known author and lecturer Dr Deepak Chopra at the Agra Jaypee Palace Hotels.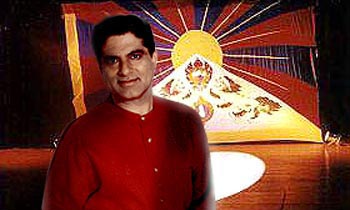 Dr Deepak Chopra presents the 'Tibet Festival'

The event started with the making of 'Mandala of Avalokiteshwara' by the monks from the Gyumed Tantrik University, Hunsur, Karnataka followed by cultural programmes by the Tibetan Institute of Performing Arts (TIPA), screening of well known documentary and feature films 'Kundun' (Martin Scorsese), 'Shadow Circus: CIA in Tibet' (Ritu Sarin & Tenzing Sonam) and 'The Cup' (Khentse Rinpoche). Also an exhibition and sale of Thangka (Scroll) paintings, handicrafts, and books by the Charitable Trust of His Holiness the Dalai Lama and Paljor Publications.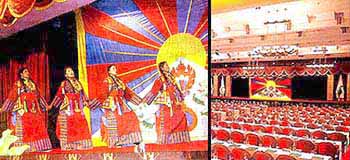 Traditional Tibetan Dance by Tibetan Institute of Performing Arts
at the Agra Jaypee Palace

Progammes included teachings on Buddhism and meditation by Venerable Kalsang Damdul, (Asst Director, Institute of Buddhist Dialectics, Dharamshala); talks by Prof Samdhong Rinpoche (Chairman, Tibetan Government-in-Exile) on 'The Future of Tibet', Kelon TC Tethong (Minister for International Relations, Tibetan Government in Exile) on 'Today's Tibet', Thupten Samphel (DIIR), Kalraj Mishra (BJP state chief, Uttar Pradesh) and Anshuman Mishra (Vice President, Deepak Chopra Foundation). Later Venerable Yeshi Togden, President of Gu-Chu-Sum Movement of Tibet spoke to the gathering about his 'Prison experiences in Tibet' exhibiting the torture weapons the ex-political prisoners smuggled out of Tibet when they escaped. This was followed by a question-answer session.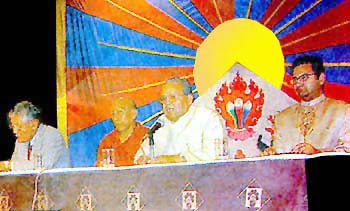 Public Meeting for Tibet: Kalon TC Tethong,
Prof Samdhong Rinpoche, Kalraj Mishra and Anshuman Mishra

"Buddhist Tantric teachings include methods for the purification of the psycho-physical components of human beings through meditation upon a pure being or deity, within a pure environment or mandala. The deities who inhabit a mandala are not external gods; rather they symbolize the enlightened state which everyone has the potential to realise" told Dr Deepak Chopra to a huge crowd gathered around the 'Mandala of Avalokiteshwara'. The Mandala was later dismantled by the Tibetan monks with rituals and prayers to mark the end of the six-day long 'Festival of Tibet' in Agra on November 7, 2000.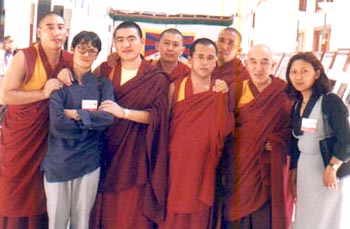 Gyumed Tantrik University Monks with the Organisers
---
'Festival of Tibet 2000' was held at the Agra Jaypee Palace Hotel from November 2-7, 2000 and was organised by Deepak Chopra Foundation in association with Friends of Tibet (INDIA) and Central Tibetan Administration.