'43rd Anniversary of Tibetan Uprising Day'
(Bombay | March 10, 2002)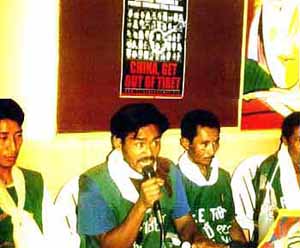 Facing The Press: SFT and FoT

'43rd Anniversary of the Tibetan National Uprising Day' in Bombay was marked distinctly by the collaboration by Students for A Free Tibet, Dharamshala and Friends of Tibet (INDIA). The SFT Cycle Rally which was flagged off from Calcutta on January 1, 2002 reached Bombay on March 9, 2002, the eve of the Tibetan National Uprising Day after cycling for 72 days. The Rally team which consisted of 17 Tibetan activists travelled through seven Indian states stopping at towns, cities and villages distributing leaflets about Tibet.

Creating awareness all the way, they covered more than 5,200 kms and reached Bombay at 11.30am. Friends of Tibet (INDIA) and the resident Tibetans in Bombay welcomed them at the Press Club where they addressed a press conference.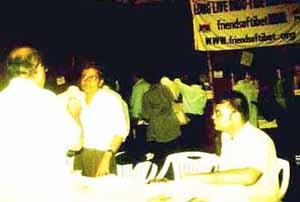 Tibet at India's Most Busiest Railway Station

Aspi Mistry, (Spokesperson, Friends of Tibet INDIA) welcomed the cycle rally to Bombay and opened the house for a talk by the rallyists. Tenzin Jamyang, (President, SFT Dharmsala) and Duke Tsering (Group Leader) illustrated and detailed the experiences they had on their 72-day-long travel to Bombay.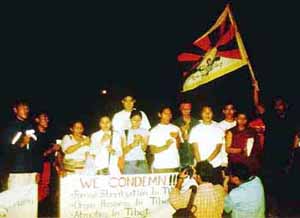 Candle Light Vigil at Azad Maidan, Bombay

This year, the commemoration of the 'Tibetan National Uprising' (March 10, 2002) began in Bombay at 4 O'clock in the morning. 'Glimpses of Tibet', a photo-exhibition (from TPPRC and the Tibet Museum, Dharamshala) showcasing Tibet from its recent history to the present History was organised at the Churchgate Station - one of India's most busiest railway stations. The exhibiton which went on till 11 O'clock in the night attracted more than one lakh visitors. It was an experience where Tibetans and Tibet supporters sat through out the exhibiton to answer queries and explain doubts thrown up from the visitors.

This one-day event came to an end in the evening, after the cycle rallyists and the members of Friends of Tibet (INDIA) sat for a prayer vigil at the historic Azad (Freedom) Maidan.
---
'43rd Anniversary of the Tibetan National Uprising Day' in Bombay was observed by Friends of Tibet (INDIA) in association with SFT Dharamshala on March 10, 2002.