'Free Tenzin, Shout Kochi's Tibetans'

(The New Indian Express | November 28, 2004)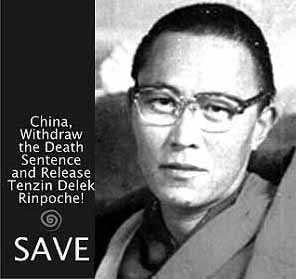 Protesting against the death sentence on Tenzin Delek Rinpoche, the guru and the leader of Tibetans, by China, the Tibetan Welfare Association and Friends of Tibet will go on a hunger-strike on Monday.
Representatives of various organisations and human rights activists will participate in the strike which will begin at Menaka Junction at 7am. Distribution of protest cards and collection of signatures will also be held on the occasion.
Tenzin Delek, who survived the Chinese intrusion into culture, was actively involved in the revival of Buddhism in Tibet. He had spent five years in India with Dalai Lama and had returned to Tibet in 1987. He founded a Buddhist centre, school and an orphanage and, alarmed by his growing popularity among the Tibetans, the Chinese Government arrested him in 1992. He will be sentenced to death on December 2, 2004.
. . . . . . . . . . . .