'Cyberspace Helps Sustain Tibetan Struggle'
by Tharakan Joseph
(Bombay Times. December 10, 1999)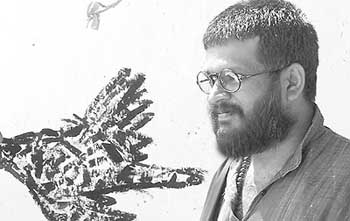 Sethu Das, founder and president of Friends of Tibet (India)
Sethu Das has aided and abetted the Tibetan freedom struggle in his own small way by establishing an e-mail club. Tharakan Joseph logs on to the revolution to find out a little more:
From Mumbai to Dharamsala in Himachal Pradesh, the distance seems to be getting shorter by the day for Sethu Das, a computer graphics freak from Borivli. More so, after he launched an e-mail club called Friends of Tibet (INDIA), dedicated to Tibetan refugees in the country.
The e-mail club, which aimed at providing news from Dharamsala and various Tibetan settlements in the country, now boasts of hundreds of membership from the world over, and is growing steadily with every passing day. The club and the Tibetan Youth Congress (TYC) have now joined hands to organise a week-long Tibetan festival in early 2000 in Mumbai. 'We are planning film festival, camps, seminars, music concerts, talks by religious and political leaders from Tibet all over India, including Dharamsala. The Festival of Tibet in Mumbai will flag off the organisation's programmes in rest of the country,' says Sethu.
The highlight of the festival is a panorama of Tibetan-centric documentaries and feature films that are adored as classics. The three feature films likely to be screened are Little Buddha (by Bernardo Bertilucci), Kundun (Martin Scorcese) and Seven Years In Tibet, a film based on Heinrich Harrer novel. A score of documentaries have already been lined up, including Why Are We Silent (Garthwait & Griffin), The Shadow Circus: CIA in Tibet, Tibet: My Country, Escape From Tibet and The Tibetan Book Of The Dead I & II.
Many reknowned writers, journalists, painters and human rights activists have joined hands with the organisation to make the festival the biggest event of 2000. More details are available http://www.friendsoftibet.org.
Sethu Das himself visits Dharamsala quite frequently. One of the biggest Tibetan refugee settlements in India and the land of Buddhist monasteries, Dharamsala has ever held a fascination for him. He learnt the unique Tibetan culture and its traditional nuances, after interviewed many political prisoners, ex-army chiefs and Dalai Lama's close confidantes. 'Everyone has to say a story of torture that they suffered at the hands of the Chinese police,' he says.
'We want to inform people about the unique cultural and religious identity of the Tibetan people, and to work to preserve that identity and assure the survival and human rights of the Tibetan people,' says Sethu.
'Every day, over 100 Tibetan refugees cross over the Himalayas for political asylum in India. It's a struggle to keep up a dying identity, and ours is an attempt to keep the Tibetan issue alive,' Sethu insists.
Among other future activities of the organisation is a virtual showroom for Tibetan handicraft, wherein the Net surfer can place orders in the cyber space.
---
Friends of Tibet (INDIA), PO Box 16674, Bombay 400050
Email:
. . . . . . . . . . . . . . . . . . . . . . . . . . . . . . . . . . . . . . . .